The Nissan Z is the long-awaited new sports car from Nissan. It is a replacement for the 350Z, with Nissan having dropped the numbers from the vehicle's name. Despite being a new generation model, the Z keeps all the features that has made the 350Z one of its most popular vehicles – with twin seats, RWD and a six-speed manual transmission.
One area though that the new Z has really improved in is power, with a twin-turbo 3.0 liter V6 engine that can boast 400hp. This is the same VR30DDTT V6 engine from Nissan's Infiniti Red Sport 400 models. It maxes out at 400 hp at 6400 rpm and 350 lb-ft of torque. This 3.0 liter engine has variable valve timing and direct injection which adds a maximum 14.7 psi of boost.

The Entry Level Trim of the 2023 Nissan Z is the Nissan Z Sport
The Z Sport is the entry level trim, but it has an identical powertrain to other Z's in the range. It also has a completely customizable 12.3-inch TFT instrument display, a complete set of safety features, club seats that have synthetic suede inserts and driver-assistance tools.
The next trim up in the Z Performance. Among its upgrades over the Sport include an eight-speaker Bose stereo system (two more speakers than the Sport), heated leather seats, more responsive braking and firmer suspension.
In terms of looks, the Performance switches the Sport's 18-inch wheels with lightweight 19-inch forged Rays wheels. The Performance also has red-painted brake calipers, front and rear spoilers and a dual exhaust. The Performance model also has an automatic launch control which the Sport does not have.
The top trim is the Proto Spec which is basically a Performance that's been merged with the Z Proto concept car. It is a full bumblebee design – yellow body, black roof, bronze wheels, yellow brake calipers and black seats with yellow stitching and accents.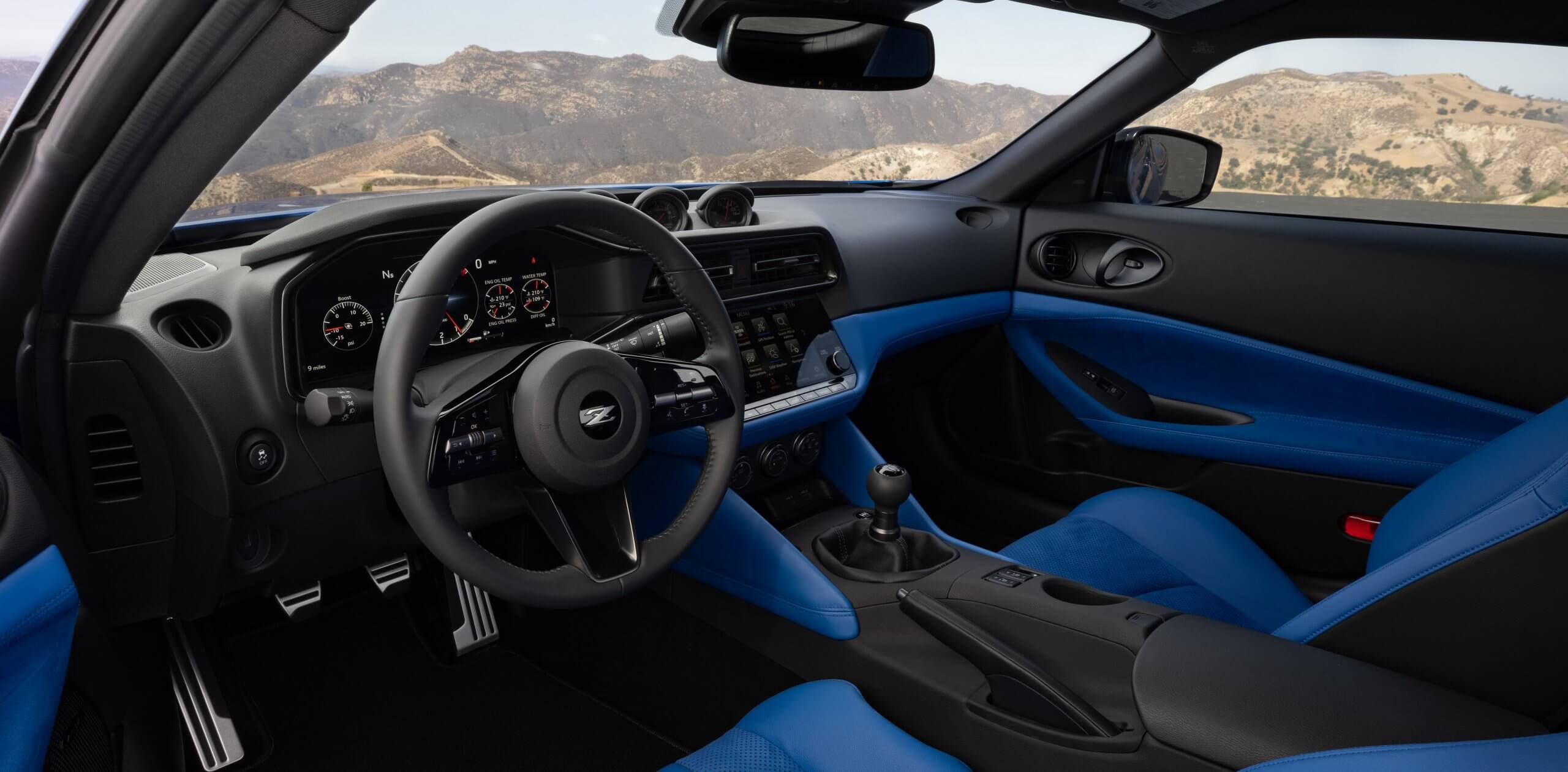 The 2023 Nissan Z is All About Stunning Good Looks and Envy Inducing Power
The Z goes a little overboard in instrumentation, featuring three analog gauges that are basically just there for show – one for boost, one is a turbocharger tachometer and one is a voltmeter. Like Z models of the past, this vehicle has similar-looking taillights and the usual 'long hood, short deck' visual appeal.
"The Z has always been an accessible sports car – always placed at the intersection of aspiration and attainability – of dreams and reality," said Ashwani Gupta, COO at Nissan. "This latest iteration is now ready to thrill Z enthusiasts and create a whole new generation of Z fans as well, when it comes to market here in the U.S. early next year."
The only bad news about the new Nissan Z is the waiting time until this premier vehicle is released for purchase, which may not happen until April 2022.

The Charlie Clark Nissan Showroom is the Place to go for all Your Nissan Vehicle Needs
If you like the sound and look of the 2023 Nissan Z, then why not head down to the Charlie Clark Nissan showroom in El Paso when the vehicle is released onto the market? In the meantime, we also have a full and complete line of Nissan vehicles in stock, no matter your needs and expectations for a Nissan vehicle, and your price range.
We offer both new and fully-certified preowned Nissan vehicles. We also offer service for all Nissan vehicles, no matter whether you purchased your vehicle from us or not, plus rentals and we welcome inquiries from commercial enterprises as well.
We can also offer you the complete vehicle purchasing experience as we can provide you with financing options, so you really have no need to go anywhere else. Commence your search by reviewing our available inventory, or by arranging a visit to our El Paso showroom. Contact us by phone at (915) 975-6992, or online through our contact form.