Towing a trailer or RV/camper is easy if you know what to expect. It can be scary at first, but before long, you will feel comfortable and confident behind the wheel. This article will cover the basics you need to know and help you be ready for your first, safe towing experience in your Nissan vehicle.
Knowledge is key
Know your vehicle and trailer hitch tow capacities – Take the capacities of each and use the smaller of the two numbers. Overload damages can range from bent axles, tire blowouts, structural damage such as weld failure to overpowering the tow vehicle.
Know Your Height – Find out your height, add a foot just to be sure, and avoid any passage marked with a lower clearance than that value.
Know Your Route – Your ability to maneuver in traffic or make course correction is considerably more limited, especially on narrow roads or in urban areas.

Pre-trip preparation
Connect to the trailer hitch correctly – making sure your hitch is on, locked in, and your trailer wiring cables are connected, and all lights are working properly.
Distribute weight properly and evenly – observing a nice flat plane between the two. An imbalance can cause your trailer to be more vulnerable to sway.
Check and correct for best visibility – making sure you can see the rear end of your trailer through both side mirrors. If your visibility is limited, consider side mirror extensions.
Configure brake controller properly, if applicable – keeping the trailer from pushing forward on the tow vehicle during braking, which could cause you to jackknife.
Safe driving
 Turning – The only rule of thumb is that the longer your trailer is, the wider you want to turn. A long trailer can end up cutting a corner that was close to the vehicle.
Backing up – The way a trailer backs up seems backwards and simply takes getting used to before it feels natural. Take it slow and steady, and you should be fine.
Inclines – Keep to the right if you are going to be slow going up the hill. If you are well below the speed limit, turn on your hazard lights to caution other drivers.
Declines – Consider using engine braking, putting your engine into a lower gear as you come down a hill. It's a good way to control your speed, and it eases up the wear on your brakes.
Braking – With a trailer, your stopping distance is longer. Maintain a good distance between you and the vehicle in front of you so that you have plenty of time to stop.
Trailer sway – Maintain good weight distribution, do not drive in high winds, and keep vehicle speed slow to help reduce risks of trailer sway.
Keep right – In nearly every state, slower-moving and larger vehicles are required to keep to the right lanes of the highway whenever possible. It's better for the overall flow of traffic, and it is generally safer.
Parking – Ensure that you have enough clearance in front of and behind the vehicle and trailer to ensure safe parking, as well as a safe exit.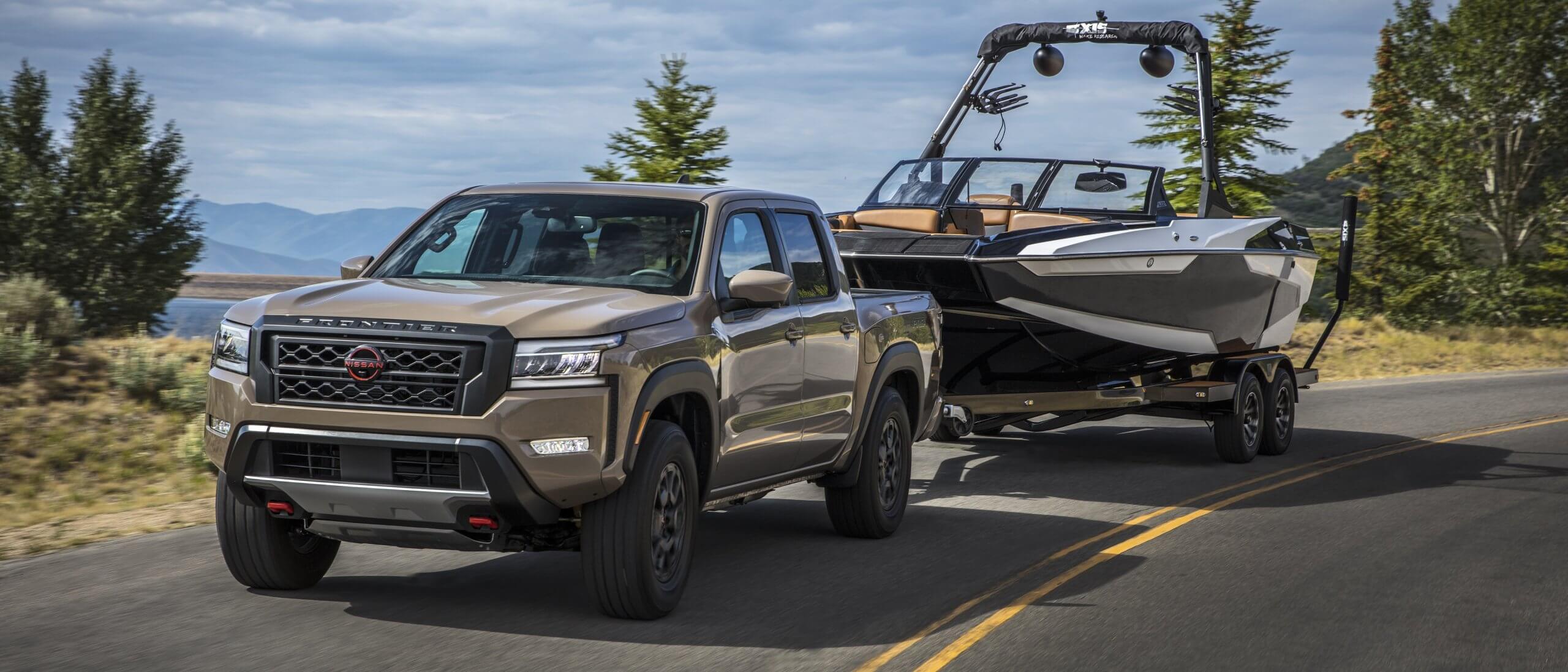 Nissan Vehicle Towing Capacities
Towing capacity is the maximum weight that a vehicle can pull while towing. Towing capacities vary from vehicle to vehicle. See the towing information in your vehicle owner's manual to confirm whether your Nissan vehicle can be used to tow and if so, what its towing capacity rating is. Use this data and the information on the new Nissan towing capacities and payloads chart to help select the proper Nissan vehicle to meet your anticipated towing needs and refer to it when renting a trailer or other piece of towing equipment.
2021 Titan – up to 9,350lbs maximum towing capacity
2021 Titan XD – up to 11,040lbs maximum towing capacity
2022 Frontier – up to 6,720lbs maximum towing capacity
2022 Pathfinder – up to 6,000lbs maximum towing capacity
2022 Murano – up to 1,500lbs maximum towing capacity
2021 Rogue – up to 1,350lbs maximum towing capacity
2022 Armada – up to 8,500lbs maximum towing capacity
2021 NV Cargo – up to 9,400lbs maximum towing capacity
Everything you need to tow with confidence
More details about the information included in this article can be found on the 2022 Nissan Towing Guide. Now that you have the know-how, it's time to hitch up your travel trailer! Make sure your Nissan is equipped with a compatible tow hitch receiver by shopping for Nissan towing accessories made for your exact make and model.
Let us find you the most properly equipped Nissan vehicle for towing
The Nissan model lineup is simply outstanding when it comes to towing capabilities. Get in touch with the trained car professionals at Charlie Clark Nissan in El Paso, TX. We understand your requirements and can suggest the right model for your needs. Whether you choose to go with the hardcore Nissan Titan or the Nissan Rogue for everyday convenience, we help you get behind the wheel of your new Nissan. If you want to gain a better insight into the Nissan towing performance, call us at (915) 621-1707 or stop on by to take a test drive!