Differences Between Nissan Titan and Titan XD Engine Options
As plenty of Texans know, a good truck isn't too hard to come by. A great truck, however, is a whole separate thing. Both the 2017 Nissan Titan and Titan XD are really great trucks, and we are happy to have them both available at our dealership. Both of these trucks look very similar on the inside and out, but there are some important differences between them. In fact, the main differences between the Nissan Titan and Titan XD are their engine options.
Read more: What's the Perfect Nissan Car for Dog Owners?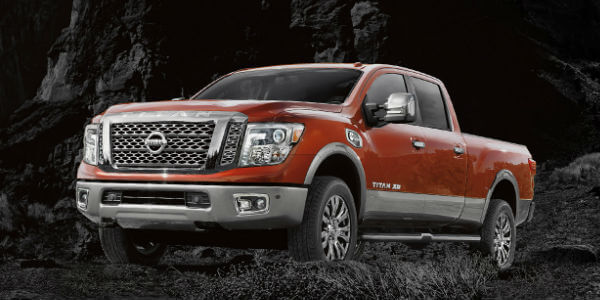 Which Nissan Titan Truck Has a Diesel Engine?
All trim levels of the Nissan Titan come with a standard 5.6-liter and 32-valve, V8 gas engine with 390 horsepower and 394 pound-to-foot torque. While the base trim level of the Titan XD offers the same engine, the XD has an engine option unavailable to the Titan: a Cummins 5.0-liter DOHC 32-valve V8 Turbo diesel engine with 310 horsepower and 555 pound-foot of torque.
With its increased torque and turbo diesel engine, the Titan XD is able to tow more as well as carry more in its payload. The Titan has an impressive ability to tow nearly a literal ton (2,000 pounds) and tow nearly 5 tons. The XD equipped with its diesel engine, however, can manage almost a ton and a half of payload as well over six tons worth of towing. Again, both are great trucks, but the power of the Titan XD's diesel engine cannot be matched by the Titan.
Read more: Welcome to Our Blog!
We hope this has helped to explain how the main differences between the Nissan Titan and Titan XD are in engine options. Now it's up to you decide whether or not you need that extra torque and power of the XD. If not, the Titan will suit you just fine. Either way, we are always happy to give a tour of our inventory or provide any other services that you may need.
We hope to see you soon!
Sharing is caring!